Hanla Level Co., Ltd. BUSAN, South Korea

Hanla Level Co., Ltd. was found in 1989 as a manufacturer to make a top leading company in the field of instrumentation for level control, and monitoring under the company motto of customer satisfaction, quality assurance, maintenance of the quality in the world. Since that time, we have been continuously making every possible effort to develope a wide variety of instrumentation such as level gauges, level switches and level transmitter to meet diversified demands of our customer. As a result of the continuous effort, we were registered as a sub-supplier for boggest domestic shipyards, and could stand firm our position as a top leader in the field of marine by acquiring the type approval certificate for own product through the classification society since 1993.
Flat
The SPT-3500, LIQUID LEVEL
Tubular
for Pump room

unselect all/select all
You have 0 products selected
Flammable gas detection system
Send enquiry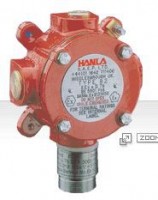 THE AMALOX 1300 FLAMMABLE GAS DETETION MONITORING UNIT are wall mounted units, which provide a means of monitoring up to 4 channels of any physical parameter which can be conwerted to an electrical sigmal.